Lastinger Center for Learning Senior Partnerships Manager Raquel Diaz, Ed.D., is on her way to take her 2023 presidential role head-on as the first Latina president of the Florida Association for the Education of Young Children (FLAEYC). 
Diaz has been an active member of FLAEYC for almost a decade and attends national conferences with FLAEYC's parent organization, the National Association for the Education of Young Children (NAEYC). In January of 2023, alongside her upcoming role as president of FLAEYC, Diaz will also continue to serve as chair of the NAEYC Affiliate Advisory Council. 
"My work at Lastinger has made me passionate about our early childhood workforce, particularly the amazing professionals who work in Florida," said Diaz. "I am excited to provide a space to help unite our profession."
FLAEYC and NAEYC work together to promote high-quality early learning by connecting practice, policy and research. As a professional membership association under NAEYC, FLAEYC connects early childhood education professionals and advocates to best support young children in reaching their full potential. 
"My goal is to ensure all early childhood educators feel invited to provide their voice," said Diaz. "I also want to make sure, once we invite diverse perspectives and voices, we engage our affiliates and keep them motivated to work collaboratively to make Florida children and the teachers that serve them thrive."
For more than 32 years, Diaz has worked tirelessly within the field of early childhood development and education. At the Lastinger Center, she connects stakeholders and educational systems to spark action-focused conversations about what is best for children and the teachers who serve them.
To learn more about Raquel Diaz, please visit her page on our website.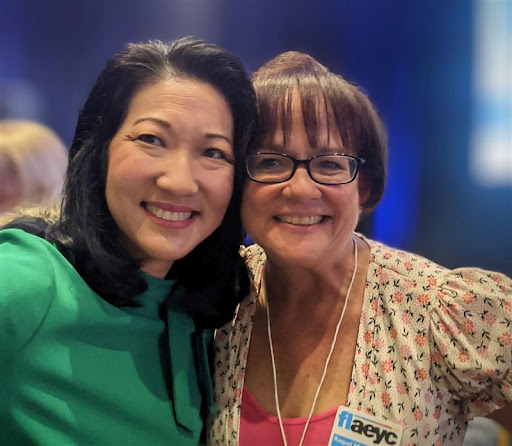 First Latina President of FLAEYC, Raquel Diaz, (right) with the First Asian CEO of NAEYC, Michelle Kang (left).