By streamlining secure access to de-identified data from millions of learners, the UF Lastinger Center Data Lagoon provides exciting new possiblities for researchers by shortening timeframes for analysis and understanding implications, as well as expediting research and development.
What is the Data Lagoon?
A technological infrastructure that: 
Collects data from various systems and programs

Cleans and analyzes data

Produces usable real-time information

Identifies opportunities for student growth and classroom interventions 

Informs large-scale strategy for schools, districts and state administrators
What does it do?
The Lastinger Center Data Lagoon makes connections between teacher professional development, student engagement, and student performance. Providing secure access to de-identified data from the Lastinger Center's digital learning applications, the Data Lagoon supports researchers efforts to better understand patterns of successful learning, including the influence of educator professional learning on student outcomes. The system also leverages information about student needs to recommend professional development experiences for educators.
How does it work?
The Data Lagoon operates in three stages:
Stage 1
Data is ingested and securely stored from district student information systems, professional learning platforms, and student learning programs, including Flamingo Learning, Math Nation and other UF Lastinger Center for Learning programs.
Stage 2:
Data are de-identified, cleaned and optimized and then made accessible to education leaders and researchers.
Stage 3
Partner data scientists and researchers can analyze de-identified data, identify patterns, and build models to enhance teaching and learning.
All stages of the Data Lagoon are built within the University of Florida' secure Azure data infrastructure using the proven Open Education Analytics architecture.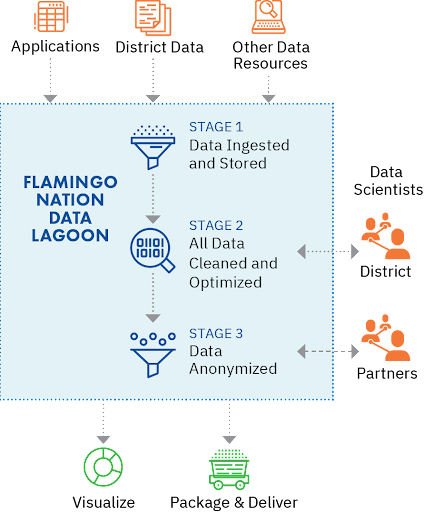 How can I get involved or support the Data Lagoon?
To learn more about the Data Lagoon or about collaborating with the Data Lagoon team, contact Lastinger Center Chief Experience Officer & Technology Principal Cathy Cavanaugh, Ph.D.