Thirteen new graduates of the UF Lastinger Center for Learning's K-12 Instructional Coaching Certification program were honored at a coaching showcase in Marion County, FL, on May 17, 2023.
Graduates shared testimonies and answered questions about their experience with the program after supportive remarks by Marion County Public Schools Superintendent Dr. Diane Gullet, UF Lastinger Center for Learning Director Dr. Phil Poekert and Coaching Coordinator Dr. Maggie Gardner. 
"You are valued. Use what you have learned to make the teachers you support feel important and valued too. When you grow and transform teacher practice, you grow and transform student outcomes for hundreds and perhaps thousands!" Gardner said.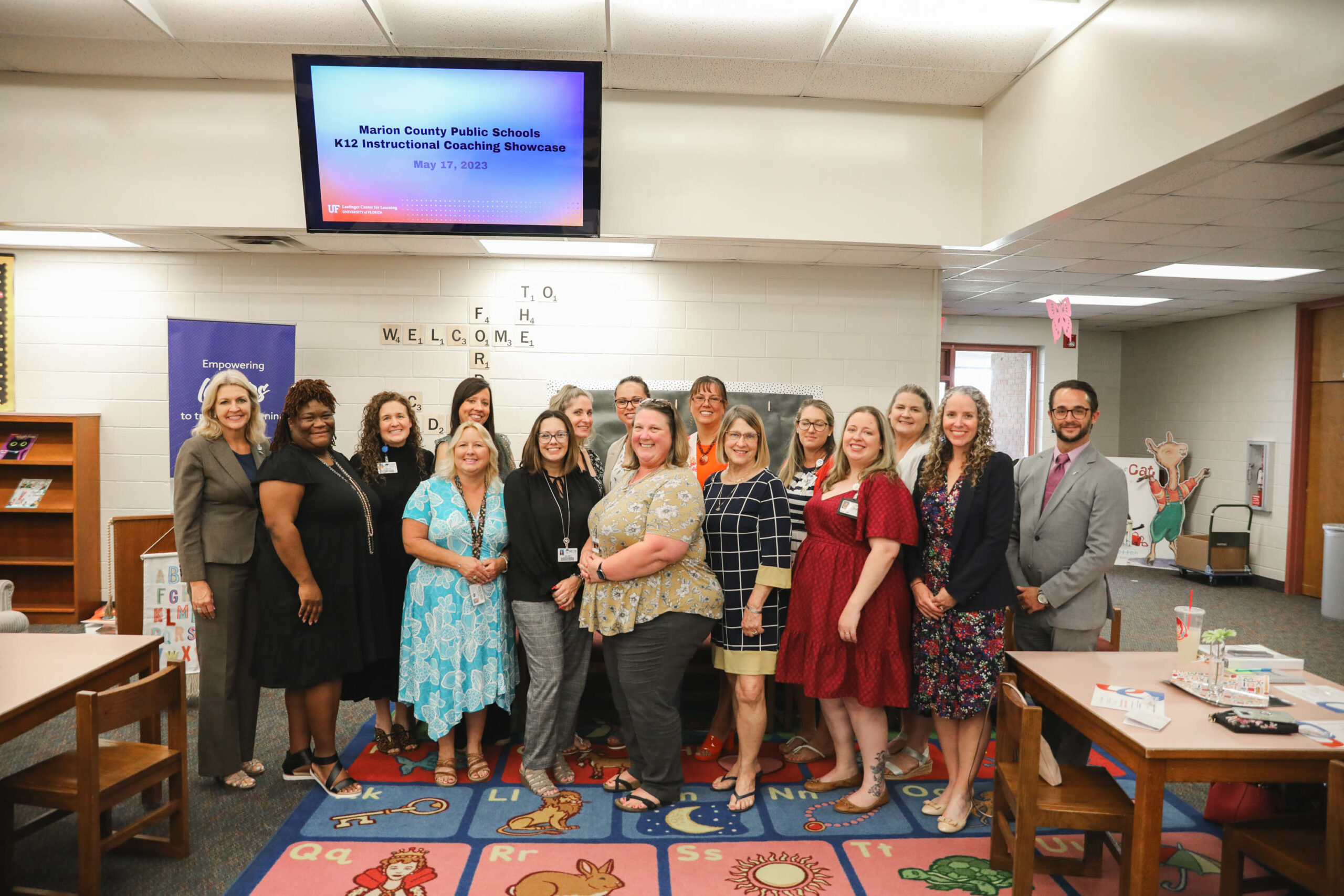 Principals of Marion County Public Schools supported program graduates as they shared their experiences in the K-12 Instructional Coach program before engaging in a panel discussion facilitated by Gardner.
"Participating in the UF Lastinger Center Coaching Certification program was rigorous, collaborative, affirming, and a game-changer for me. There is incredible power and high impact using this model; teachers are able to own their practices and plan for improvement with a non-evaluative supporter by their side. Of course, one of the best by-products is evidenced by meeting the needs of all students, resulting in improved student learning and achievement," said Leah Smith, instructional coach at Liberty Middle School. 
The K-12 Instructional Coaching Certification program was designed by the Lastinger Center to develop skills that education professionals need to deliver teacher-centered coaching to the educators they support. Specific, data-driven feedback was essential to the participants learning the fundamentals of coaching. Throughout the certification program participants actively coached teachers in order to turn real data-driven feedback into strategies to aid in goal setting and learn how to model best practices.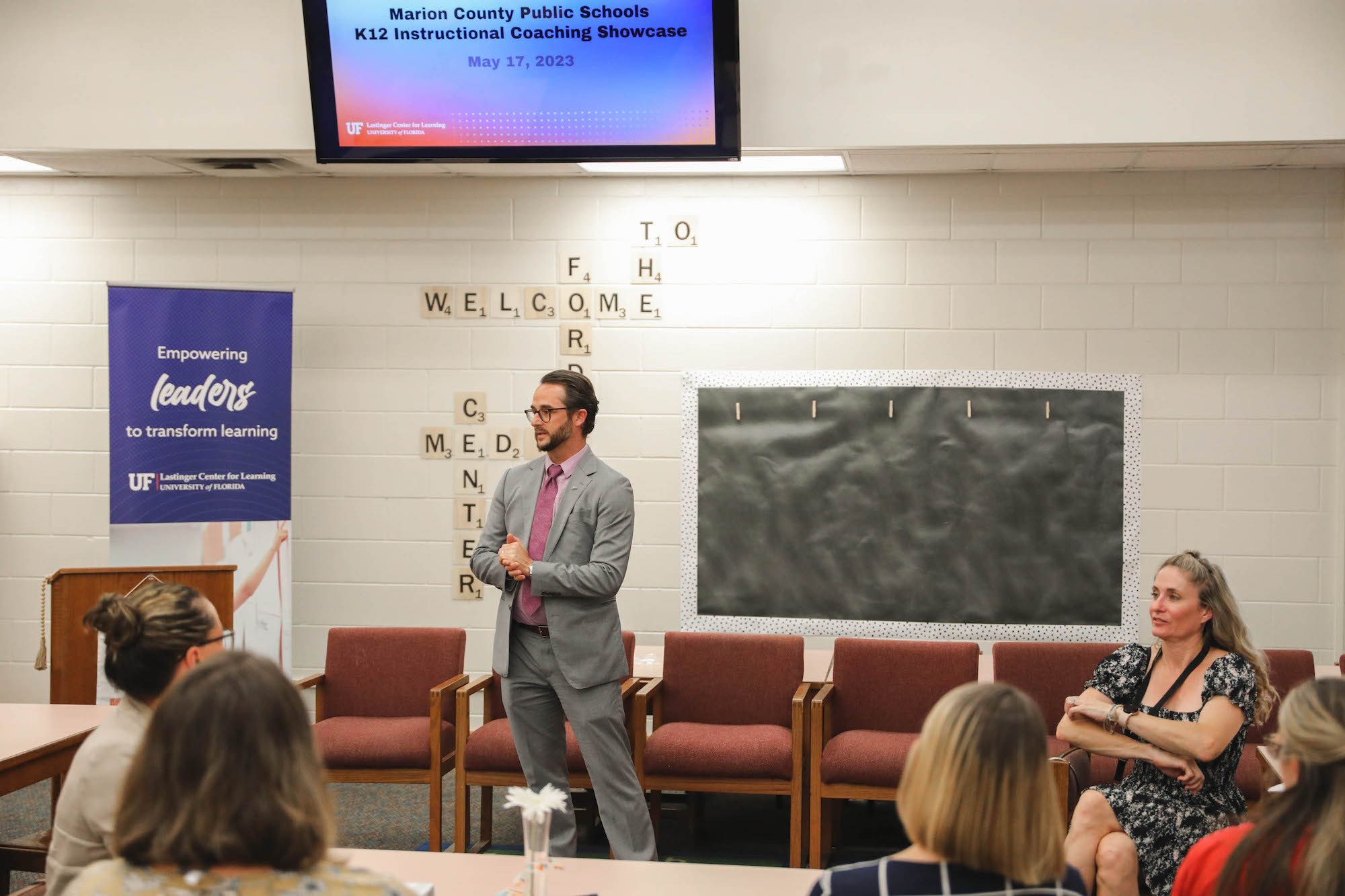 "Instructional coaching is a collaborative and personalized approach to professional development. It focuses on supporting educators to refine their teaching practices, increase student engagement, and achieve better outcomes for all learners, students and adults," Poekert said.
The program prepares graduates to facilitate relationship-based coaching conversations that lead to improved teacher practice and student outcomes. 
"This idea of "flipping the script" on coaching, in which the teachers become the learners, has resulted in sustainable instructional change on my campus. Teachers are thinking deeply about the way they deliver and reflect on teaching resulting in student academic growth," said Angelique Haworth, instructional coach at Belleview Santos Elementary.
Certificates of completion of the K-12 Instructional Coaching Certification program were awarded to graduates after the discussion panel. These coaches will go on to actively use the knowledge and skills they have acquired to continue to impact teacher practice and student outcomes. They will also have the opportunity to serve as peer coaches to support the next cohort of coaches, as this cohort is just the foundation for growth in Marion County. 
Administrators will be participating in the K-12 Instructional Coaching Certification program this fall and upcoming spring, and other additional coaching cohorts are planned over the next three years in order to support the development of a culture of coaching and build coaching capacity in their district.
To learn more about the K-12 Instructional Coaching Certification program, please fill out the Program Interest Form.