This summer UF Lastinger Center for Learning facilitated five New Worlds Reading Teacher Professional Development sessions across the state. 
Between June 1 and 28, 359 teachers participated in the training that connected New Worlds Reading at-home book delivery to classroom instruction and dipped their toes into the science of reading. 
"The strategies taught in each section of the training build on the knowledge that you already have. As an ESE teacher, I help support K-2 students and these strategies help those struggling readers to fill some gaps," Melissa Durand, K-2 ESE teacher, Lake County Schools.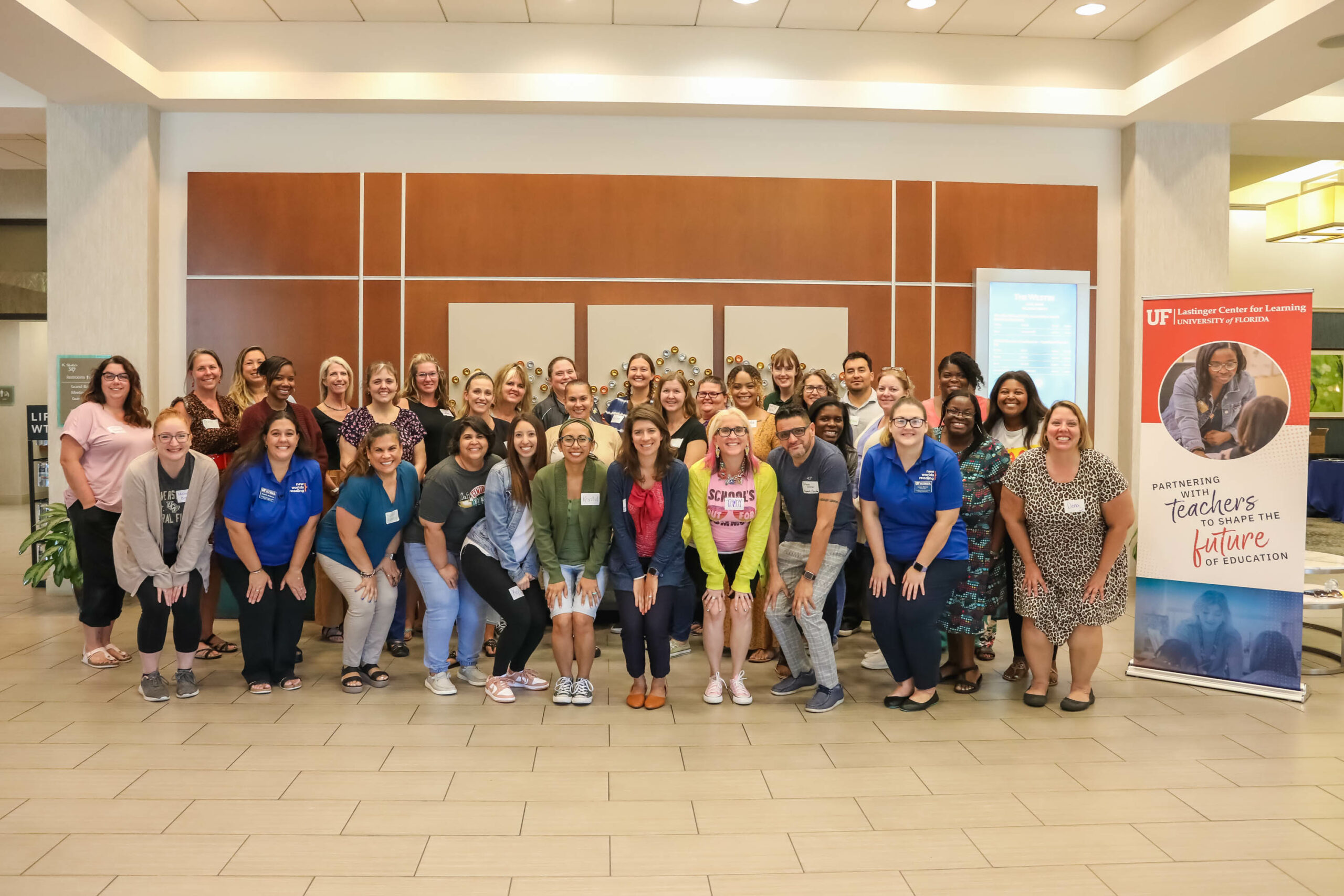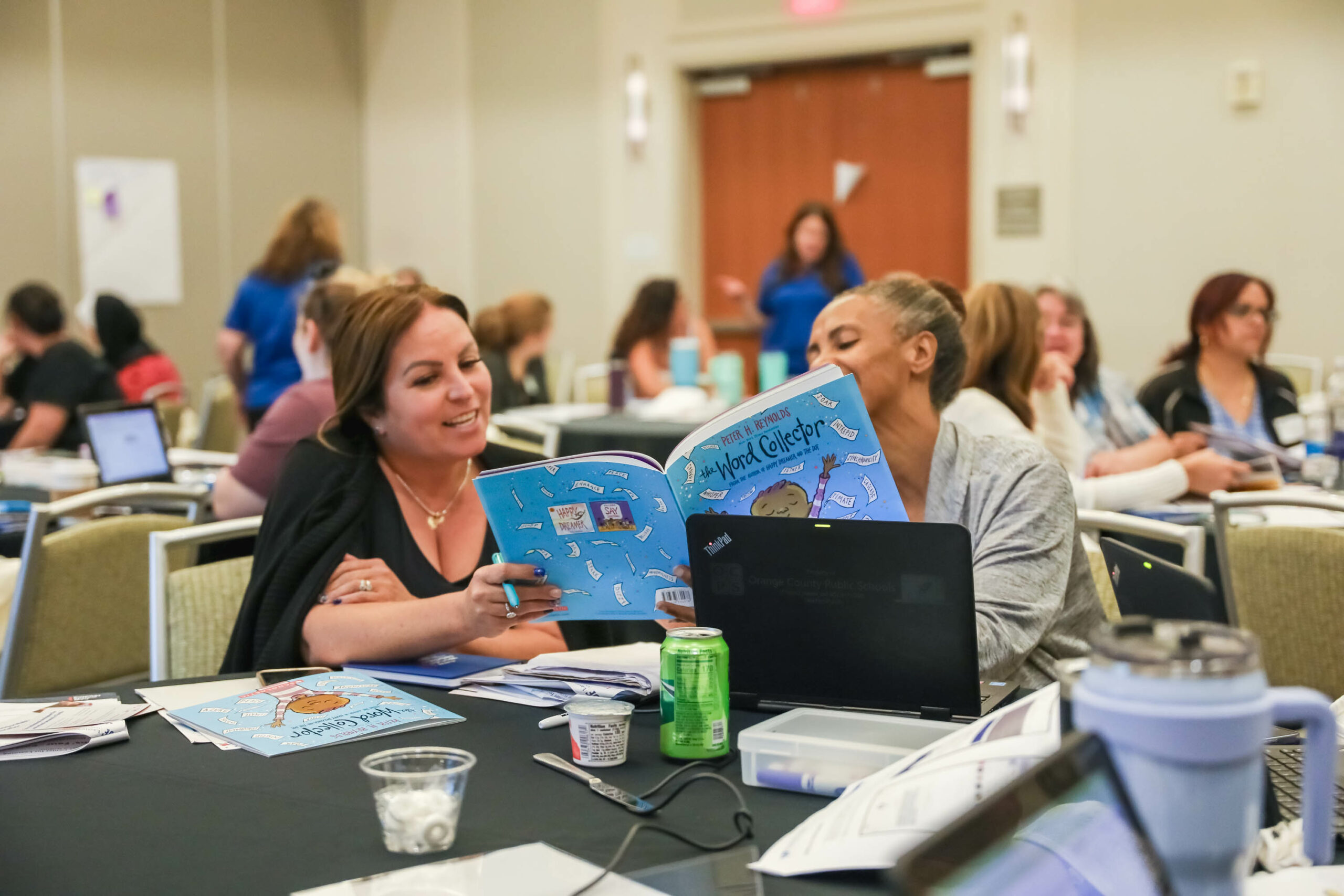 How it works
New Worlds Reading Teacher Professional Development sessions are more than just slide decks and presenters. Teachers work together in small groups at their tables, conduct activities for each science of reading concept, practice using New Worlds Reading Educator Resources together and reflect at the end of each section. With built-in time for practice and reflection, teachers begin to see how the content and strategies they're learning can be immediately implemented into their classrooms, and have opportunities to ask questions and receive peer support. 
"We believe that impactful professional development lies in fostering meaningful connections and aligning it with what is most relevant for teachers and their instructional practices," said Kyra Purvis, literacy content manager for the New Worlds Reading Initiative. "With New Worlds Reading Teacher Professional Development, we purposefully connect educators with evidence-based practices in the science of reading, reading instruction components tied with the B.E.S.T. ELA Standards, and free resources, empowering them to integrate the knowledge and learning into their classrooms seamlessly."
In addition to being an impactful professional learning session, the training was an excellent opportunity to share New Worlds Reading with teachers. 70% of Florida's K-5 public and charter school students are eligible to enroll; however, self-reported data indicates that only 20% of teachers attending the training reported having students enrolled in the initiative. By equipping classroom teachers with information about the program to take back to their students, New Worlds Reading will be able to partner with even more of Florida's families to help students learn and love to read.
Responding to a need
As Florida's third-grade reading scores started trending downward in 2019, moving from 57% reading on grade level to 54% in 2021, the Florida Legislature, led by House Speaker Chris Sprowls, began to champion literacy programs. Sponsored by Representative Dana Trabulsy, the New Worlds Reading Initiative received bipartisan support in the legislature and was signed into law in June of 2021.  Administered by the UF Lastinger Center for Learning, New Worlds Reading supports students by responding to the specific needs in our state's public and charter schools and engages families in reading by sending free books and activities directly to their doorsteps. Since 2021, New Worlds Reading has delivered over 3.7 million books to more than 250,000 students.
Recognizing that book delivery is one part of a literacy ecosystem that will improve student outcomes, the legislature expanded New Worlds Reading further to support teachers with professional learning opportunities and resources.
In October 2022, the New Worlds Reading team at the UF Lastinger Center began developing reading guides to expand access to evidence-based reading strategies at home and school. In addition to receiving a free book in the mail every month, families began to receive Interactive Reading Guides that contain helpful strategies and fun activities to support children as they're learning to read at home. Educators also gained access to online Teacher Reading Guides that connect the science of reading to the New Worlds Reading books and align instruction to the B.E.S.T. Standards.
New Worlds Reading Professional Development sessions were created in partnership with the Florida Department of Education and provide this opportunity at no cost to Florida's public and charter school K-5 classroom teachers.
This year, each participant received a $450 stipend to incentivize their time, awarding more than $160,000 directly to classroom teachers across the state.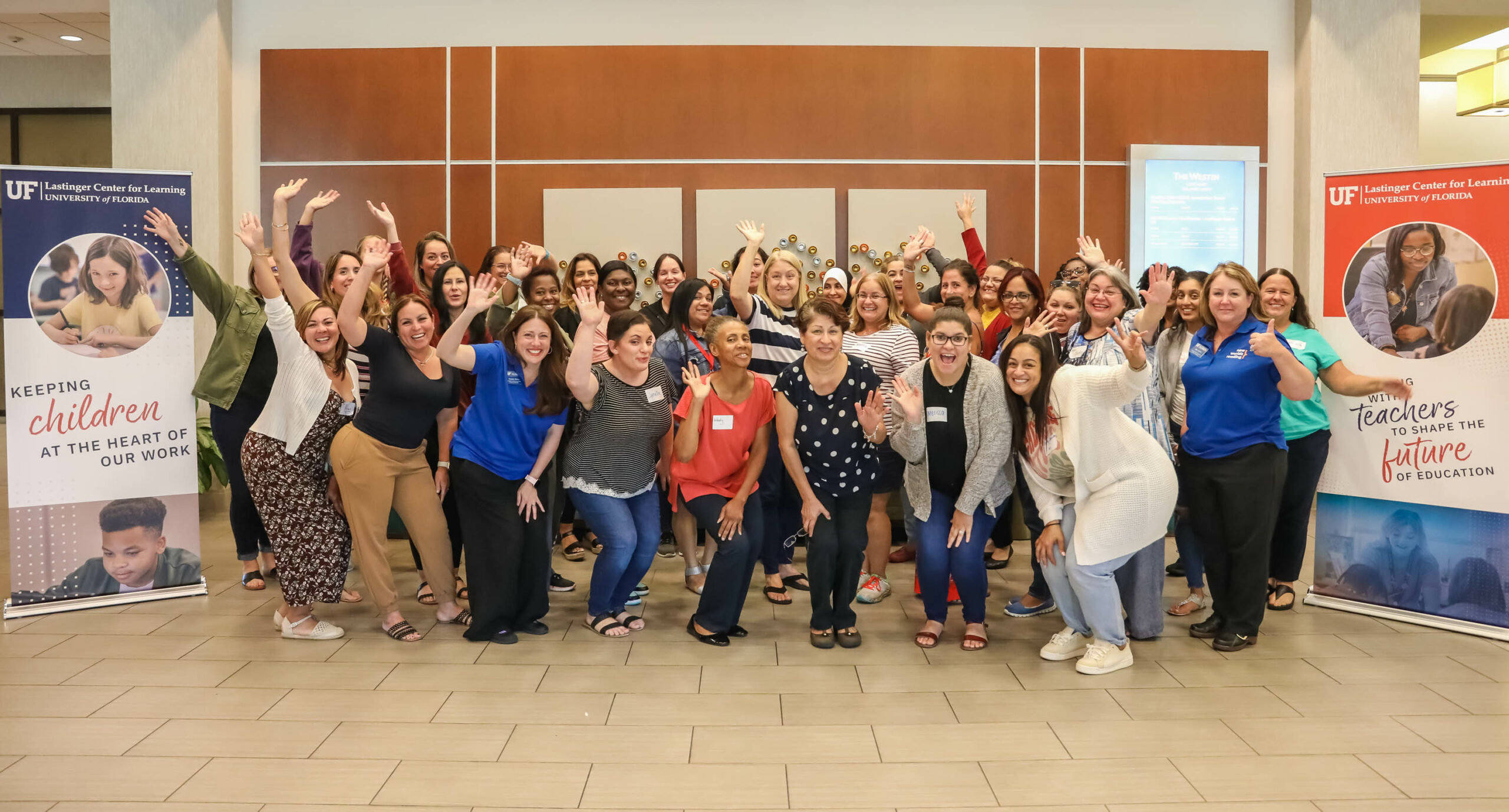 Scaling for impact
With over 800,000 eligible children across Florida, equipping this initial cohort of classroom teachers with science of reading professional development is just the beginning. The sessions were recorded by the UF Lastinger Center for Learning's video production team to create a virtual professional learning course that will be available online and on demand for classroom teachers anywhere in Florida. 
If the New Worlds Reading Teacher PD sessions can be described as "dipping your toes" into the science of reading, the next step is to take a "deep dive" through the UF Lastinger Center's Flamingo Literacy Micro-Credentials. The micro-credentials are modular, personalized and on-demand. Instructional personnel enrolled in the micro-credentials receive one-on-one support and individualized feedback while they implement new instructional strategies through job-embedded practice. Micro-Credential content can be put to use immediately so it starts helping students right away.
Improving student reading scores will not be solved by one strategy, one program or one organization. By offering a multi-pronged professional learning system that partners with teachers, districts and states, the UF Lastinger Center for Learning aims to impact every level of the education system so that high-quality learning experiences are available to every student. 
Since 2021, New Worlds Reading has served K-5 students who are not yet reading on grade level in Florida's public and charter schools. This summer, legislation was expanded to include VPK students in the initiative. 
Parents and caregivers can enroll their children in the New Worlds Reading Initiative for the 2023-2024 school year at newworldsreading.com. 
Teachers interested in the New Worlds Reading Teacher Professional Development sessions can fill out the Program Interest Form to receive an email update about future offerings.