While Florida saw no significant changes in reading scores according to the 2022 NAEP scores¹, it still has a Grade 3 passing rate of 53% for the Florida Standards Assessment². This is a critical milestone for students. The chances of students falling behind are greater if they are already behind in reading scores³ because they graduate from learning to read in third grade to reading to learn in fourth grade.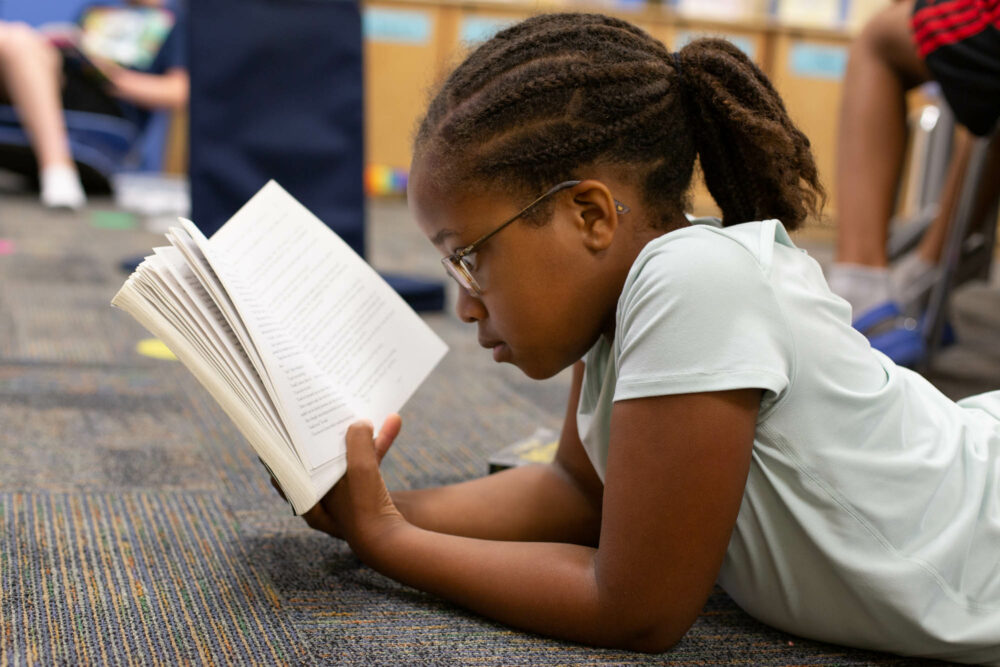 About the Literacy Micro-Credentials
Dr. Paige Pullen, Chief Academic Officer and Literacy Principal at the UF Lastinger Center for Learning, intends to make Florida number one in literacy rates. Recognizing that this vision cannot be achieved alone, the UF Lastinger Center has been building a suite of services that support teachers and families to impact student learning outcomes. 
"It will take a comprehensive ecosystem of all of our Florida communities working together to support our students at every touchpoint," said Dr. Pullen.
Most recently, the Center partnered with the Florida Department of Education (FDOE) and the Division of Early Learning (DEL) to create the Flamingo Literacy Micro-Credentials. The micro-credentials are available at no cost to Florida instructional personnel in an effort to create accessible and on-demand reading professional development.
By equipping instructional personnel at every level of the education system, the Flamingo Literacy Micro-Credentials will enable a comprehensive approach to improving literacy rates by having cohesive literacy instruction from birth through twelfth grade.
The UF Lastinger Center designed the micro-credentials so that they are modular, personalized and on-demand. Instructional personnel enrolled in the micro-credentials will receive one-on-one support and individualized feedback while they implement new instructional strategies through job-embedded practice. The idea is to put the micro-credentials content into use immediately so it starts helping students right away.
A drastic improvement in students' literacy outcomes won't be achieved by one service, by one organization or by one strategy. 
Continuing Professional Development
After instructional personnel earn mastery of the micro-credential, they have many options to continue their professional development for free with the UF Lastinger Center.
The Division of Early Learning provides Flamingo Early Learning for free to early learning educators, which offers over 1,000 hours of online professional development in English and Spanish. The Florida Department of Education also offers the Literacy Matrix for free as the pathway to the full reading endorsement; instructional personnel who earn mastery of the Elementary or Secondary Literacy Micro-Credential will have already earned Competency 1. 
The New Worlds Reading Initiative, created by the Florida Legislature in 2021, provides free books to public K-5 students who are not yet reading on grade level. Understanding that books alone won't improve reading scores, New Worlds supports families and caregivers by sending home interactive reading guides, and is currently developing further literacy professional development for educators. 
Enrollment
As the Lastinger Center prepares for the launch of the Flamingo Literacy Micro-Credentials on January 30, 2023, it remains committed to improving the quality of teaching, learning, and childcare through scalable, equitable educational innovations that put all learners on trajectories for lifelong success.
Eligible instructional personnel can enroll now.
References
1. 2022 NAEP Reading Assessment. The Nation's Report Card (2022).
2. Florida Standards Assessments, Grade 3 English Language Arts. Florida Department of Education (2022).
3. Pre-Kindergarten–Third-Grade Literacy. Casares, J. & Weyer, M. (2019).